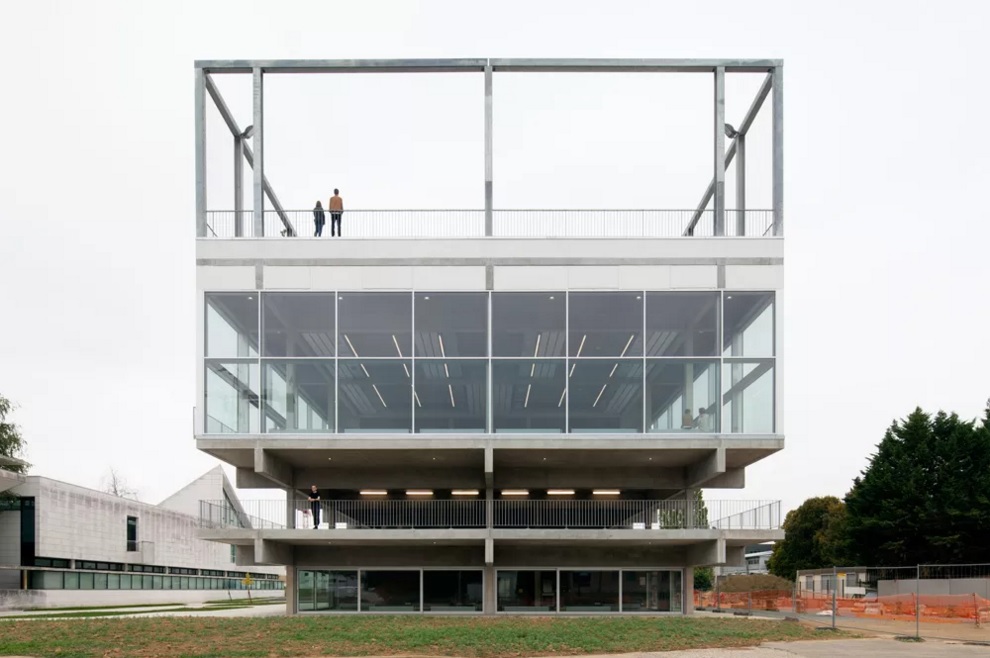 With a size of 2,300m², this project is located on the Saclay's campus. This campus, in the southern part of the Parisian region, aims to become one the most important research centre in the world. Over the last few years a lot of projects have been launched to implement some of the most prestigious french schools in the area.
Our project, called Lieu de Vie, meaning "a place of life", associates diverse activities while adhering to the goal of initiating exchanges between various campus users.
It will regroup a cafe, sports fields, gyms, a cafeteria, reception and entertainment areas. The programme's placement and relationship produces a series of terraces that range from a public square to a wide roof-terrace dedicated to sports.
The different layers are suspended vertically and permit at each level a panoramic view of the landscape of the plateau de Saclay. Visibly displayed, the activities become the real facade of the building. The project forges an open and flexible space open 24 hours a day, becoming a central place for exchanges and leisure on the campus.
OUR SCOPE
Acoustic Consultant and Lighting Designer

SPECIFICATIONS
Client : EPPS
Size : 2,300 m2
Cost : 5,5 M€
Location : Cluster Paris Saclay
Opération : Construction
Architect : Muoto
Team : Bollinger Grohmann, Novorest

STATUS
Handed over in 2016