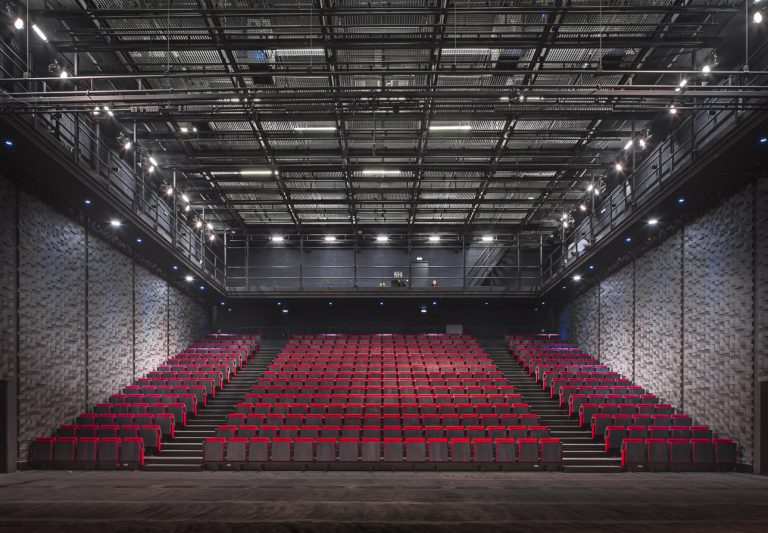 Facing the Eiffel Tower and the Torcadero gardens, Chaillot National Theatre is one amongst the largest concert hall of the
capital and was designated one of the four national theatre of Paris in 1975. Associated with renowned artists and symbol of a world class live performing art, the theatre has started a complete reworking and the design of a new Masterplan.
The first phase consists of the reorganisation of the premises (J. Vilar theatre, a large rehearsal room, gathering areas) and the refurbishment of Gemier Theatre, its premises and a reception hall.
Located below the busy and touristic Trocadero place, the new Gemier room will be insulated from airborne and structure-borne noise with a «box in a box» system, creating an inner shell, isolated from the existing building.
The room is provided with retractable seats and a modular stage and offers different configurations.
© Sergio Grazia
OUR SCOPE
Acoustic Consultant
Specific studies :
Noise and vibration assessment
Room acoustics for the Gemier theatre
Impact sound insulation to the public roof deck
SPECIFICATIONS
Client : OPPIC
Size : 2 900 m2
Cost : 10,5 M€
Location : Trocadéro, Paris
Opération : Rebuilding
Architect : Brossy & Asociés
Team : SAS Mizrahi, Changement à vue – Michel Fayet

STATUS
Handed over in 2017