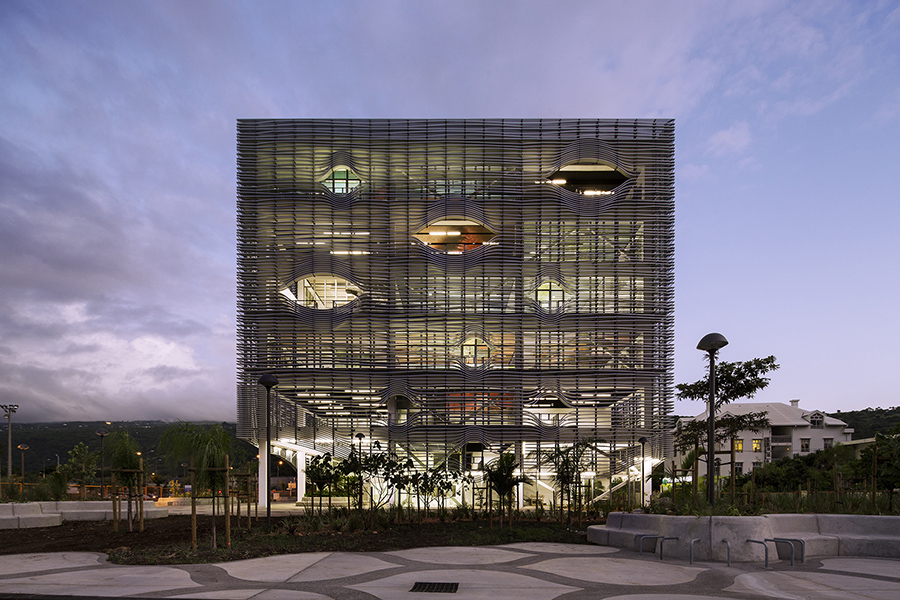 The building called "Cimendef" was handed over in 2015 by Marin + Trottin Architects in St-Paul, La Reunion, designed to be a public library. Its opening never happened and was it bought by La Région office. They decide to convert it, transforming the building to host a new Regional Conservatoire (CRR), the Regional Literature Centre (CLR) and Regional Centre for Contemporary Music (PRMA).
The wide and empty levels composing the project will all be re-used to make the different Centres to coexist.
Managing the acoustics is an important aspect of this project, given its purpose.
Percussion rooms and contemporary and classical music rooms will be realized as a "box in a box" with spring floors.
A wide new room for orchestra practice will be created. It will complete the auditorium, and its acoustics will be revise to create a reverberation time adpated to its activity.
© Luc Boegly
OUR SCOPE
Acoustic Consultant

SPECIFICATIONS
Client : Région de La Réunion
Size : 2 172 m2
Cost : 3,7 M€
Location : Chaussé Roayle in St-Paul, La Réunion (974)
Opération : Conversion
Destination : Culture
Architect : Marin+Trottin / Peripheriques Architectes
Operational Project Management : Hub:
Team : Egis Ocean Indien, Franck Tallon
STATUS
Studies in progress