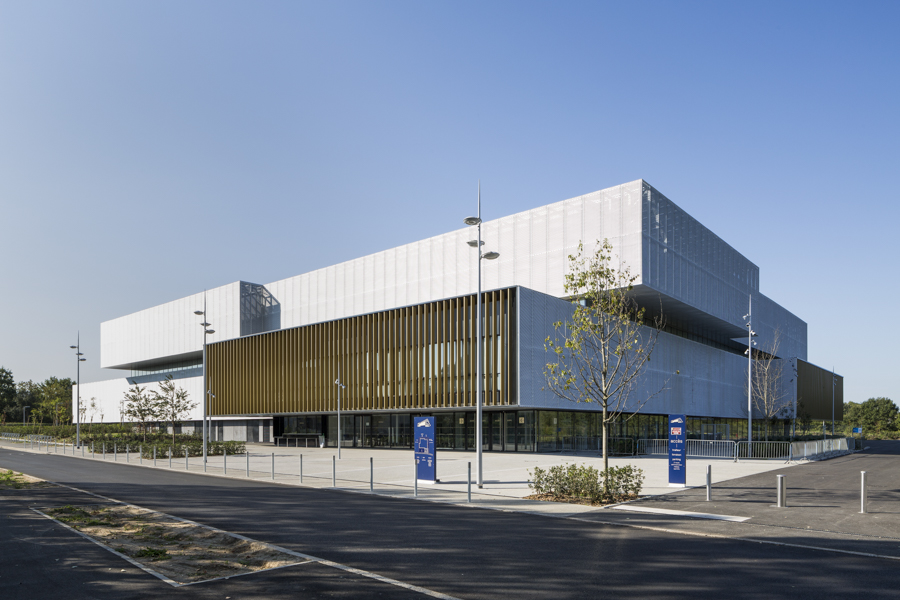 This project responds to the needs of Nantes and its surrounding cities for a high level sports facility. This sports hall will have a 4,000 capacity and will host competitions and training sessions.
Located in Nantes surroundings, it will benefit from an already established sports environment in the area which includes a swimming pool, an ice rink, gymnasiums and stadiums.
The architecture is intentionaly minimalistic and the wide parvis will create continuity between the building and its remarkable natural environment.
The main room is contained in a large square box and the aditional elements of the programme are small boxes attached to his side. This creates simple and pure lines to whose a modern touch is added by a metal mesh on its facing, capturing the changing light during the day and the night.
© Grégoire Couvert
OUR SCOPE
Acoustic Consultant

Specific studies:
– Environmental assessment for certification
SPECIFICATIONS
Client : Nantes Metropole
 Size : 7,500 m²
Capacity : 4,000 seats
Value : 19 M€
Location : La Trocardiere, Reze (44)
Opération : Construction
Architect : Chaix & Morel et Associés
Team : SNC Lavalin
STATUS
Handed over in 2015